The Prix Galien Research Award 2015
Dr. John Kelton and Dr. Theodore Warkentin of McMaster University
Dr. John Kelton has been Dean of Health Sciences, Vice-President (Health Sciences) and the Dean of the School of Medicine at McMaster University since 2001. Dr. Theodore Warkentin is a Professor of Pathology and Molecular Medicine at McMaster University and began his research career in Dr. Kelton's laboratory.

This team has devoted a good portion of their research careers examining the mechanism, manifestations, diagnosis and possible treatments for heparin-induced thrombocytopenia (HIT). This work has had important impact on the clinical use of heparin. The team was responsible for the development of the "gold standard" test known as the serotonin release assay to diagnose HIT. Although HIT was initially felt to be a rare adverse response to treatment with heparin, Kelton and Warkentin demonstrated that 1 – 5% of patients treated with heparin for more than one week could present with thrombocytopenia and/or thrombosis. The risk of developing HIT depends on the type of heparin used - unfractionated heparin having the highest likelihood, low-molecular weight heparin having a much lower risk and fondaparinux (a complex polysaccharide with anticoagulant activity) having a negligible risk. Despite the reduced platelet count, HIT is an intensely prothrombotic disorder with venous thrombosis being more common than arterial thrombosis but both can lead to gangrene.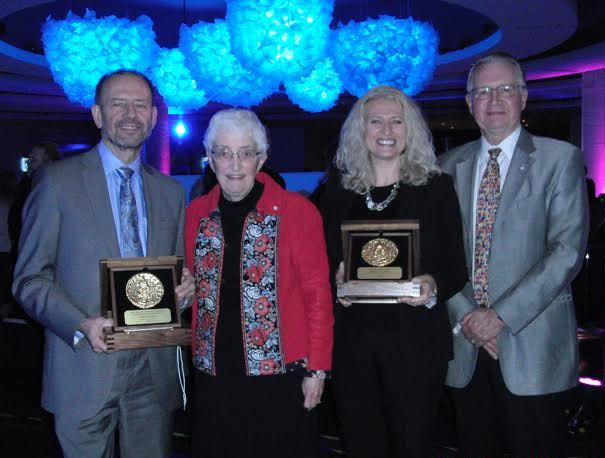 Dr. Theodore Warkentin, Dr. Jean Gray, President of the Jury, Cheryl Cann and Dr. John Kelton
Kelton and Warkentin worked out the pathophysiology of the disorder. They demonstrated that about 5 to 40% of patients treated with heparin develop antiplatelet factor 4 heparin antibody complexes about 4 – 5 days after heparin exposure and that these complexes bind to platelet receptors, resulting in a variety of manifestations including venous gangrene (particularly if warfarin is substituted for heparin) delayed onset HIT, transient global amnesia and adrenal hemorrhagic necrosis.

In addition, their work has focused on possible treatments for HIT and has included the development and testing of several molecules such as argatroban and, more recently, fondaparinux for the treatment of HIT. Current cardiology guidelines recommend the use of fondaparinux rather than heparin during cardiac catheterization procedures, a major shift in recommendation because of this research.

The work performed by this team has resulted in numerous major awards from international transfusion and hematology organizations. An impressive number of students and fellows have passed through their laboratories and continued working in the areas of coagulation and thrombosis. In addition, Drs. Kelton and Warkentin, both together and individually, have made substantial contributions to the wider field of platelet disorders.

For their careful studies of heparin-induced thrombocytopenia over several decades and for transforming the care of patients who experience this disorder, the Prix Galien Research Award for 2015 is awarded to Drs. John Kelton and Theodore Warkentin of McMaster University.
The Prix Galien Innovative Product Award 2015
Boehringer-Ingelheim (Canada) LTD for afatinib (Giotrif)

Giotrif is an irreversible tyrosine kinase inhibitor that inhibits signaling from all ErbB family receptor homodimers and heterodimers including those containing EGFR (epidermal growth factor receptor). The drug was approved in Canada for the treatment of non-small cell lung cancer with EGFR gene mutations in November, 2013.
Two first-generation EGFR tyrosine kinase inhibitors, erlotinib and gefitinib, reversibly bind to and inhibit the intracellular tyrosine kinase domain of EGFR and have demonstrated improved progression-free survival compared to chemotherapy alone but neither has demonstrated an overall survival benefit over chemotherapy and tumors rapidly develop resistance to these drugs and relapse. Giotrif is a second-generation tyrosine kinase inhibitor that differs from the first generation agents by inhibiting HER2 and HER4 receptors in addition to the tyrosine kinase activity of EGFR. The drug covalently binds to these receptors to maintain a long-lasting irreversible inhibition of signaling from all ErbB family receptor homodimers and heterodimers.
Boehringer-Ingelheim developed an extensive international clinical trial program to investigate the role of Giotrif in the treatment of non-small cell lung cancer patients with EGFR mutations. Two large scale phase III trials demonstrated that Giotrif prolonged progression-free survival and quality of life for these patients and also demonstrated an overall survival benefit of over 12 months compared with standard chemotherapy in those patients harbouring an EGF Del 19 mutation but not for other EGFR mutations. No comparative studies of the various tyrosine-kinase inhibitors have been done but a network meta-analysis of the TKIs suggests that erlotinib and afatinib (Giotrif) have potentially better efficacy and greater toxicity compared with other first-generation TKIs. However, unlike chemotherapy, Giotrif is available orally and does not result in hair loss and adverse effects are manageable. Current treatment guidelines for non-small cell lung cancer with an EGFR mutation recommend that Giotrif now be considered as a category 1 first-line therapy. In Canada, Boehringer-Ingelheim has developed a comprehensive patient assistance program that provides reimbursement relief and access to nursing support to deal with adverse effects for patients who are prescribed Giotrif.
Canadian investigators have served as principal investigators and authors of published clinical trials and Canadian patients have contributed to our knowledge of the role of this drug in non-small cell lung cancer treatment regimens. The Canadian 2015 Prix Galien Product Award recognizes Boehringer-Ingelheim for the development of Giotrif.